…. and that's a good thing.  While in Kenya, many things happened – many friendships and relationships were started, plans were made.  One of the things that came out of my trip was meeting Prashan De Visser and learning about Sri Lanka Unites (SLU).  SLU is a peace and reconciliation movement that started in 2009 to bring hope to young students in Sri Lanka and break down years of tribal conflict and create a better future for the youth of Sri Lanka.  The concept (simplified here for brevity) was to take students from different tribes and provinces and bring them together for five days and do team building exercises, sports, art, music, reconciliation sessions, and bunking together as teams.  After five days of living with their "enemies" they learn that they are not very different from one another and on the last night something beautiful happened.  Check out this video of what happened the last night of their Future Leaders Conference.
Click Here to see the video.
I also had a chance to meet Pastors Camille & Esther from the Democratic Republic of Congo (DRC).  They have an amazing story of ministering to the people of DRC through their organization, Africa New Day.  Congo, similar to Sri Lanka, is torn apart by tribal wars for decades.  So a few years ago at the Fearless Conference Camille, Esther and Prashan got together to discuss the idea that what SLU was doing in Sri Lanka is exactly what is needed in the Congo.  Fast forward a couple years and on this trip to Kenya we all got together to talk about the idea of Congo Unites – modeled after the first Sri Lanka Unites Future Leaders Conference.  Plans were in place to have Congo Unites 2014 in July of 2014.  The prospect of students in the Congo getting together to create a better future for the Congo was exciting to discuss and was the possibility for an amazing story.  A story that many people should be aware of.  A story that many people should be able to see.  Hmmm…
How could people see it?  A feature length, professional documentary.  Congo Unites the Movie.  A few of us met while we were still in Nairobi – Prashan, Camille, Esther, Ken Oloo, my friend Mike Kenyon, among a few others – we all got together to talk about the possibility of the Congo Unites 2014 happening and also the idea of making a documentary.  Mike volunteered to Produce the documentary and ask me if I would produce it with him.  I said, well, I have never produced a film before but that I would help in any way I could.  We all agreed to pick this idea up when we got back to the states to see if this might be something that God may want to happen and whether or not he may want us to be involved.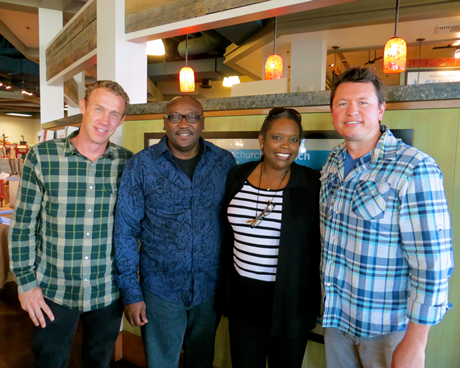 (Mike, Camille, Esther & me)
So, what was that sentence again – you know the one about students learning to tell a better story with their lives through film… in Africa.