the part where i panic and take a step…
Ok, so yes, I blew it.  I freaked out that a director of a Tom Cruise film was who I was supposed to connect with and talk to about my idea or my sentence or whatever it was – so I didn't (more details in the part 2 below).
Fast forward to spring of this year.  Pastor Muriithi from our partner church Mavuno in Nairobi, Kenya comes to speak at the Irvine campus of Mariners Church (our home church).  He spoke about being irresistible and spoke about two front-line ministries that we support in Nairobi.  One of the ministries that Muriithi mentioned was Filamajuani (FJ), which is a swahili word that means "Films in the Sun".  Muriithi told us all that FJ and it's founder, Ken Oloo, does something like the following… "Helps students learn how to tell a better story with their lives, through learning the process of filmmaking…"  and this is happening in Nairobi, Kenya – which does happen to be in Africa.  That is extremely similar to the sentence that I wrote in my journal almost a year before at the Storyline conference.  To me this was another chance.  I was too afraid last time I had an opportunity, and regretted it – this time was going to be different.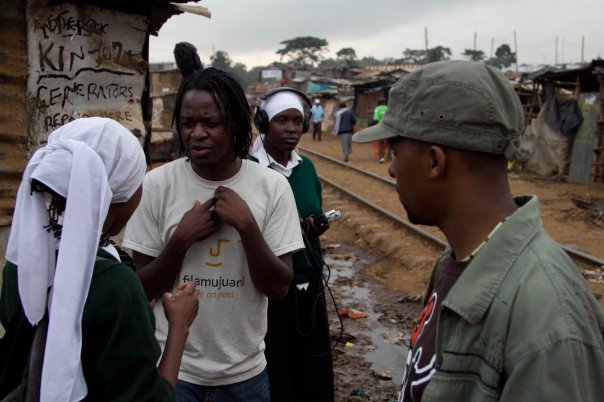 (Ken Oloo, center in tan Filamajuani shirt, on location in Kibera)
It just so happens that Ken was in the United States raising awareness and support for FJ.  I had a chance to meet with in late May, just the day before he left to go back home to Nairobi.  Ken and I hit it off and talked for quite awhile about what FJ was all about and some amazing stories of how the students involved with FJ's lives were changed through learning about story and the process of filmmaking.  Our time together was a little too short, but as we parted he said I should come to Kenya sometime.  I said – yes, that would be great, thinking that was very unlikely.  But God had a plan – there was a team from Mariners already in the late stages of planning for a trip to the Fearless conference in Nairobi.  I spoke with the leaders of the trip and after hearing my story, they were able to open up one more spot on the team.  I was on my way to Nairobi.