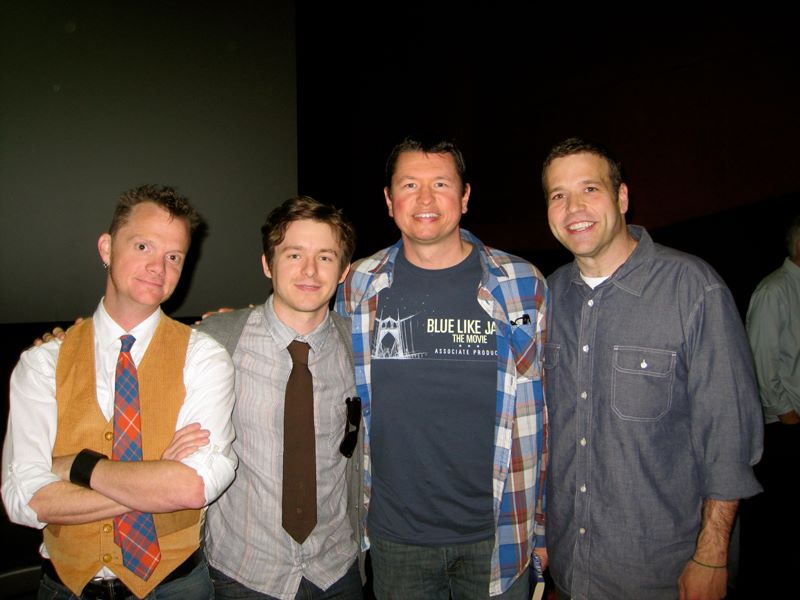 (Blue Like Jazz screening, L-R: Justin Welborn, Marshall Allman, me & Donald Miller)
In the post below I mentioned Ken Oloo from Filamajuani (FJ), or Films in the Sun.  He is an amazing guy and one of the main reasons that I was a last minute add to the Kenya Fearless trip.  Ken was in the US for about 70 days drumming up awareness and support for his organization when I had the chance to meet him.  Well, wait – let's back up just a little bit – how did I even end up getting on this Fearless Kenya trip?
On June 8th, 2012 I cashed in on a gift that my beautiful wife, Sandi, gave me – which was to go to Donald Miller's Storyline Conference in Santa Barbara.  The conference was two days and was centered around understanding the story that your life is telling and how to tell a better story with your life.  You know, when you are on your death bed and the credits roll on your life, looking back – what kind of story was it…  Right up my alley and as a huge fan of Donald Miller's writing as well as being a huge supporter of the Blue Like Jazz movie Donald, Steve Taylor & Ben Pearson wrote – I was very excited to attend.
One of the exercises that we did while at the conference was to get away, find a nice quiet spot in the hills of Santa Barbara and listen to what new subplot God might have in mind to add to your story.  I did that and felt that God was saying to me "Help students learn how to tell a better story with their lives, through learning the process of filmmaking, in Africa".  This was an odd statement for me as I only knew a little bit about the concept of telling a better story with your life, I knew next to nothing about filmmaking, and I live in Irvine, California – which you may or may not know, is not next door to Africa.  But I wrote it down and told a couple people, including Donald Miller.
So then, a couple things happened.  When I spoke to Don after the conference about the sentence that God gave me about the next possible subplot in my life, Don thought that was cool.  He actually said something like – "Hey, I met a couple people from LA that may be doing something like that – you should talk to them.  I think they were at a church called…."  So I thought cool, somebody is already doing that so what would they need me for?  I made myself a promise that I would take the next step and try to find out who these people are.  Let's see if I actually do.
Part two – coming soon…