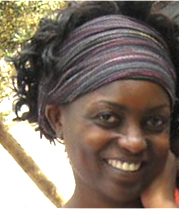 One of the people that I will be spending some time with in Nairobi is Daisy Warimi.  Daisy goes to our partner church, Mavuno Church in Nairobi and she was sharing with us at one of our services a couple months ago the story of her ministry.
Last year, Daisy was going through her church small group curriculum, they were studying the section on social justice and she was not sure how this would be applicable to her.
The next morning her babysitter asked her for a loan because her husband was jobless.  Daisy was very broke herself and didn't really have any money.  Daisy told her babysitter she would think about it.  When she arrived at work, the caretaker of the grounds stopped her and asked her for a loan.  Daisy thought that was weird, two people in about 30 minutes asked her for a loan. She told him that she would think about it.  As she was leaving work, the night watchman told her that he had been meaning to ask her for a long time, if she could give him a small loan.  So that was three people in one day.
She wondered why her, but since she was studying social justice she told them each that she would give them a loan.  She was bluffing because she had no idea how she was going to give out loans.   Daisy told them she would give them the loans if they would do two things – 1) The loan must be for an income generating activity, that way you pay back the loan from what you are doing.   And 2) They must save money for the activity as well.  Daisy agreed to give people 3x what they saved for the loan.  And since there were just three of them she told them to invite a friend and they could get together at Daisy's house on Saturday to discuss the details and start a small group around this venture.  Daisy thought that maybe they would have six or so at her house on Saturday, but when Saturday came around 43 people came to her house from Kibera, the largest urban slum in Africa.
Today her ministry gives micro loans to over 2,000 people in the slums of Kibera.
I'll introduce you to another person and their story in the next day or so.